5 tags
Presenting my music biz thesis: marketing music... →
Hi there! It has been two years, but my thesis is finally ready for public release. Today I am very excited to present to you the final result of this research. The Answer is the Ecosystem: Marketing Music Through Non-Linear Communication The music business has had particular trouble adjusting to the realities of the digital age, so I set out to develop a model that fully integrates all of...
The reasons to get rid of the major record labels →
Downhillbattle.org gives 6 reasons why we're better off without the major record labels: Music diversity will grow, because people will decide what's popular, not scientifiy hit-making models and marketing. Pay-for-play radio will end, which means that independent labels can now compete in a much fairer way. Independent music won't be marginalized. The lawsuits will stop. ...
The Passion Index →
yvynyl: echonest: One of the ways that Music 2.0 has changed how we think about music is that there is so much interesting data available about how people are listening to music… Computing listening data is the future of the music industry.  Sadly.  How will this guide future music creation? Why does data have to influence the creative process?
NPR Streams New Moby Album Exclusively - Asks For... →
Now here's a smart way to direct attention to an album release. It appears NPR has entered in a deal to let people listen to Moby's new album via their website. They're also asking people to tweet their review of the album with the hashtag #waitforme - the name of the album. Way to go, Moby! What's more, Moby has anounced that the most creative review will get exclusive...
Harvard Study Finds Weaker Copyright Protection... →
From the page: "The authors were one of the first to challenge the early claims about the effects of file sharing.  Years later, many other economists have followed suit (including the study funded by Industry Canada).  This latest paper does a nice job of expanding the discussion, by using the data to examine incentives for creativity and the effects on aggregate creator and industry...
Help me out! Fill in the survey! Get free music!
Ermmm… no textbox to the right. Use the field below :-)
Looking for artists to sponsor my future of music...
Hi everyone! I'm a 23 year old International Communication Management student currently writing my thesis about the Future of Music Distribution. For this thesis I'm going to be doing a survey to add more authority to the findings of my thesis so far. As an incentive for people to fill out the survey, I figured it would be appropriate to offer them FREE MUSIC! :-) The idea is as...
Pirates, Peers and Digital Pioneers: How Downloads... →
3 tags
So Now Everything is Googles Fault →
"Google says it cannot operate YouTube if it has to pay a royalty — however small — every time a video containing music is played. In 2007 the UK's independent Copyright Tribunal established that a minimum royalty per play was an essential requirement in the licensing of online services. Google fails to recognize this and ascribes little value to music — in spite of a huge increase in...
7 tags
Teens Cut Online Music Spending, Use Free Web... →
"Consumers ages 13 to 17 spent 13 percent less on music downloads last year, while compact disc purchases tumbled 26 percent, according to a survey by the Port Washington, New York- based researcher." "Downloads from peer-to-peer networks fell 6 percent in 2008, NPD said. Meanwhile, 52 percent of teens said they listened to online radio in 2008, up from 34 percent from 2007....
1 tag
4 tags
Big Music Will Surrender, But Not Until At Least... →
I guess the Isle of Man has something to prove now.
3 tags
"Streaming music startups don't want more people using their service, because..."
– Michael Arrington, The Sorry State of Music Startups
3 tags
Last.fm says: "German, English, American? No? Pay... →
Not sure this is the right way to go about it. People are not used to paying for this service, nor are they used to paying for radio. I expect they'll lose a lot of users who will then illegally download the music they're looking for, instead of playing it via a trackable system so royalties can be paid out and data handed over to artists. Sad.
14 tags
This is my interview about the future of music...
3 tags
Court case could force one strike-you're out on... →
Genious plan. As research commissioned by the Canadian government has shown, "among Canadians actually engaged in it, P2P file-sharing increases CD purchasing." So the ones getting disconnected will actually be the biggest customers of these companies. Oh and besides that, it's also a huge infringement on the freedoms of Australian citizens, but they should be getting used to that by now.
3 tags
Report: 17 million people stopped buying CDs in... →
"While overall music sales were up 10 percent in 2008, the year saw a drop not only in CD sales, but also in the number of customers actually purchasing music. But according to a new report, the act of listening to music is actually on the rise. … NPD's annual Digital Music Study found that there were 17 million fewer CD customers in 2008 than in past years. CD sales have been...
1 tag
Music recommendation is not doing its job →
3 tags
MeTheMedia - Rise of the Conversation Society... →
Thanks to Gerd Leonhard for the heads up! He says: "The main topic of the book (as far as I have read it, at the time of this blog post) is how drastically things have changed because WE 'the people formerly known as consumers' are becoming more empowered by the minute, i.e. it's increasingly more about MEMedia than about THEIRMedia; about conversation and engagement not...
3 tags
Feds Demand Prison for Guns N' Roses Uploader →
They're asking for 6 months in prison for the guy who was the first uploader of a Guns N' Roses album before the release date. It's always very tragic when something gets leaked, but there are good ways to deal with it and bad ways. Prison sentence goes a bit far, a fine would be more appropriate. Also, they're charging him for every single download made - with estimates...
2 tags
Interview With Derek Sivers →
Former full-time musician and CDBaby founder, Derek Sivers, speaks out about the future of the music industry and musicians. Says some fascinating stuff, like the following about spreading the word about a band/artist: "I'd make sure that I was always in a real three-way conversation with my fans. Encourage them to talk with me and with eachother. Make my success their success, like...
2 tags
After Leak, Yeah Yeah Yeahs Rush Digital Release →
A leak sucks, but they're keeping their cool. More labels/artists should have this attitude.
2 tags
Norwegian ISP Telenor Rejects Demands to Block The... →
2 tags
Facebook Pages Will Replace Traditional Landing... →
A lot of potential for musicians also.
3 tags
The Pirate Bay trial is over, now we wait for the... →
A short summary of some points made during the trial. Nice read.
5 tags
""Reports had claimed that Eminem wanted over £800,000 from Universal and..."
– Signs of a changing media landscape: Eminem accused of suing Universal Music over unpaid royalties (UK Telegraph)
3 tags
Study: P2P Music Downloads Increase Music CD Sales →
A 2007 study comissioned by the Canadian federal government points out 'piracy' increases music CD sales. "It found "a strong positive relationship between P2P file-sharing and CD purchasing" among the subgroup of P2P file-sharers. Specifically, "among Canadians actually engaged in it, P2P file-sharing increases CD purchasing."" Click the above button for the article or...
3 tags
RIAA 2007 Consumer Profile →
Some great statistics about US music consumption in the last 10 years. There are also reports dating as far back as 1999: http://www.riaa.com/keystatistics.php?content_selector=consumertrends
3 tags
3 tags
Statistics on the growth of the digital music...
"In 2008 the digital music business internationally grew by around 25 per cent to US$3.7 billion. Digital platforms now account for around 20 per cent of recorded music sales, up from 15 per cent in 2007." "The recorded music industry generates a greater proportion of its revenues through digital sales than the film, magazine and newspaper industries combined." ...
1 tag
6 tags
5 tags
Stop download flood, says EMI chief executive →
The bottom of the article talks about EMI's losses and their borrowings. I guess they're panicking and trying to control a medium which they can't. Article found via Media Futurist @gleonhard who adds: "Ouch - will they EVER learn? License the ISPs - don't unplug the users!!!" He has a good point. If this were the 80's, it would be like scrambling...
5 tags
1 tag
Internet Users and TV Audiences: Differences on...
Some selected quotes from an academic paper titled as above, by Searle Huh (second from above), who has a B.A. and M.A. in Mass Communication at Yonsei University in Seoul and an M.A. in Communication at Michigan State University. "The fact that Internet exists with TV simultaneously even after over ten years of invention implies that Internet is not a perfect functional substitute for...
6 tags
Australian government banks $2 billion from... →
Now here's an interesting story. The Australian government apparently owns a certain percentage of a particular ISP (click the link for the details). This ISP has made a huge profit last year and this made the Australian government some money also. ISPs make money by selling bandwith and of course a considerable chunk of that bandwith was used for illegal peer-to-peer filesharing. From this...
2 tags
1 tag
3 tags
Why Naxos Records is now on Facebook →
Including an interesting link about the demographics of Facebook.
1 tag
Set Yourself Free & Get Paid For It →
David Sherlow, whose independent record label has broken over 100 No. 1 hits in the US, writes about giving away music for free.
2 tags
Student threatens suicide over RIAA lawsuit →
"A Chicago student threatened to kill herself after being terrorised by Vivendi Universal, EMI, Warner Music and Sony BMG's RIAA  as part of their sue 'em all marketing campaign." Bad PR, guys. I thought they were stopping these lawsuits?
3 tags
Music vs the Music Industry →
An interesting take on the future of the music industry by Seth Godin.
2 tags
2 tags
Music 2.0: Compensation Not Control
Compensation Not Control Music 2.0 Gerd Leonhard Midem Net 2009 View more presentations from Gerd Leonhard. (tags: isps leonhard) A great presentation by Gerd Leonhard, given at MidemNet .
1 tag
How to Fight Piracy? Include Free Concert Ticket... →
Interesting thought, but how about including a free album with a concert ticket? How about offering fans to download an MP3 of the night's show to their iPod or USB stick for a few bucks after the show? We're still thinking in old ways here, believing that album sales are what matters.
3 tags
BitTorrent in Developing Countries →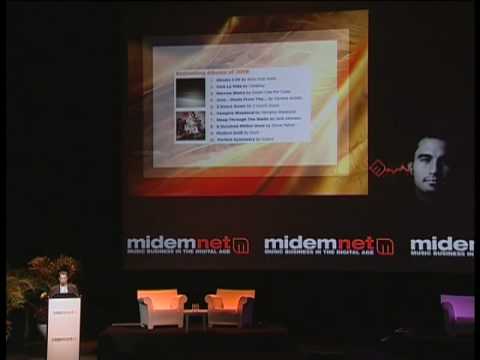 1 tag